By IFPA, posted on September 1st, 2014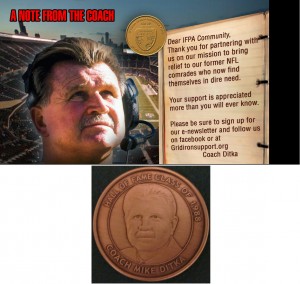 The Flippin' With the Greats League raffled off the third prize of the preseason, with Jon Drew winning a limited "proof" (stamped in coin) struck Rich Gannon 2002 MVP Medallion with color fill trim, along with an autographed action photo.
To cap off our final week of preseason FWTG recruiting we will be giving away a Super prize combination from Da Coach himself!
The winner of this week's drawing will receive an autographed photo of Coach Ditka, a Ditka Hall of Fame Medallion, and a "Thank you" letter from Ditka's Gridiron Greats Assistance Fund naming the winner the "Honorary Captain" of the 2014 Flippin With the Greats / IFPA pinball campaign.
The week #4 prize will be raffled off on September 4th at 9pm CST. All FWTG League members at that time will be eligible for the prize.
A reminder also that the player leading each division at the end of the preseason will win the "Preseason MVP award" and earn a spot into the Grand Final and play for a NIB Pinball Machine. Currently Andrei Massenkoff leads the NFC West, Damien Charlety leads the NFC South, Jon Drew leads the NFC East, Zach Sharpe leads the AFC South, Josh Sharpe leads the NFL North, Rob Ferullo leads the AFC East and Trent Augenstein leads the AFC North. The AFC West is still up for grabs. Updated FWTG standings are available HERE.
For details on the FWTG LEAGUE, including how to register, format, prizes and more, click HERE.
Gridiron Support is currently offering a Preseason 10% discount on "Tier 1" and "Tier 2" IFPA/FWTG personalized League Medallions. In addition, Gridiron Support is offering special "group" sales discounts on Medallion orders of 3 or more. Call Vicki (Gridiron Support) at  612-999-FWTG (3984) for more information!
The Gridiron Greats Assistance Fund (GGAF) is a non-stock, non-profit 501(c)(3) organization providing financial grants and 'pro bono' medical assistance to retired NFL players in dire need. The organization focuses on the humanitarian side of post-football related issues, which include coordination of social services to retired players who are in need due to a variety of reasons including inadequate disability and/or pensions.
Get behind Coach Ditka's Gridiron Greats Assistance Fund and "LIKE" Gridiron Support on Facebook at https://www.facebook.com/gridironsupport.org.